MEA in the Heartland
by Pepe Johnson
June is recognized as "pride month" throughout the nation and the Heartland is no exception. Pride festivals and parades offer the chance for organizations to spread their message of freedom for all to the community. The Military Equality Alliance (MEA) sponsored two booths at pride festivals in Little Rock, Arkansas; and Oklahoma City, Oklahoma. Total attendance at the two events topped 20,000!
Little Rock held its pride festival on Sunday, June 4. OKCPride sponsored a two-day event on June 24 and June 25. This was the first time either event had a booth regarding Donít Ask, Donít Tell. We passed out MEA brochures and asked visitors to sign the petition sponsored by Servicemembers Legal Defense Network (SLDN). Time and again, visitors thanked us for joining them for their pride celebration.
"I was stationed at Tinker Air Force Base during the Gulf War, but I this is the first pride celebration I have ever attended in Oklahoma City," said Felix Arrieta, regional organizer for MEA. Besides Felix, there were many other veterans at the celebration and a few active duty servicemembers as well. We made sure that anyone who said they were active duty, or had friends who were in the military, took one of the Servicemembersí Rights cards, also provided by SLDN.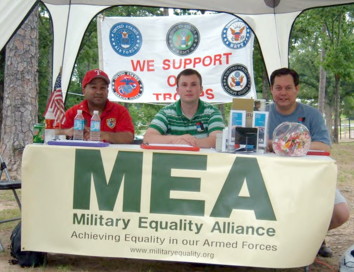 Felix Arriata, Pepe Johnson, and John Ames at Little Rock
Many attendees in both Little Rock and Oklahoma City were from out-of-town too. In particular we noted several attendees from Lawton, Oklahoma. Lawton is home to Fort Sill and the U.S. Army Field Artillery Training Center.
Before packing to leave, we visited the other organizational booths and shared our information with them. Randi Romo and her organization, the Center for Artistic Revolution, is an ally of MEA in Little Rock. Oklahoma, Arkansas and Texas all have great Gay Rodeo Associations. Oklahoma City is also in the process of forming a chapter of Log Cabin Republicans.
We are in the planning stages to sponsor more events in Arkansas and Oklahoma. Arkansas is important to the passage of the Military Readiness Enhancement Act as it is the home of Representative Victor Snyder, a senior Democrat on the House Armed Services Committee. Oklahoma is the home of Representatives Dan Boren (D) and Tom Cole (R), also members of the Armed Services Committee. These events will include strategy sessions to determine how best to petition these representatives for their support.
Keep reading Gay Military Signal and visit our website, www.militaryequality.org, to keep updated on our efforts in the Heartland.