Shari Zabel
MAJ, USAF, Ret.


Fighter Pilot

by
Denny Meyer
USAF Major Shari Zabel, Retired, served a full twenty year career as a fighter pilot, then served as a civilian with NORAD, and then began transitioning from male to female in 2013. That's the short version of an incredible life as an American patriot; the details follow.
Her family, from Liberal Kansas, were Nazarene Christian fundamentalists. Her father was a diesel mechanic and her mother taught English, speech, and debate. Her grandfather and uncle had both served in the Air Force. Shari grew up in Oklahoma and Arkansas. Her earliest memory of knowing she was a girl in a boy's body was at the age of three when she 'borrowed' her sister's leotard. She soon learned that expressing who she was wasn't safe. In elementary school she learned how to 'act like a boy as was expected.' Still, at an early age, she began to be teased as effeminate. So, she tried harder and ended up excelling as an athlete, in track and playing baseball and football. These were the typical transgender early experiences of a person now aged 50. As a teenager, she knew how to fight, how to quote the bible, and how to be a social conservative; she kept who she was bottled up inside, never speaking of it to anyone, not even herself.
There were times, in her early teens, when she furtively tried cross dressing; going through periods of Christian confusion, purging herself by throwing away her secret caches of clothing. There was no 'community' of people just like her that she could turn to for role models. She simply knew that she'd be beaten and bullied if she gave in to who she was inside: a woman who was attracted to men. Her faith, her religion, and her beliefs led her to push all that away in a mental personal vault. It would only be later in life that she'd learn that she was intersexed from birth, with physical elements of both genders. It seems incredible to realize that neither she nor anyone else had ever noticed this, including military physicians conducting the standard routine examinations, saying, "cough" with their finger between her legs, finding only what they expected to find. It didn't matter at all, of course. Her service was exemplary and beyond outstanding. But had her physical and gender identity ever been discovered, she would have been disqualified from flying and from serving, and none of it would ever have happened. What a tragedy, that transgender patriots have to suffer spending their service careers constantly hiding who they are in order to serve our nation.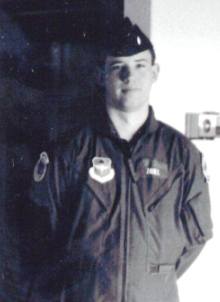 And so it was, as she soared through college ROTC, a degree in history and political science, a Commission, a Masters in Aeronautical Science, and a sterling flight career, including Carrier service, combat deployments, navigation and electronic warfare training, fighter jet flying, and three marriages. Her uncle, a career Air Force navigator, conducted her commissioning ceremony. A brilliant career followed.
She excelled in survival, navigation, electronic warfare, flight and fighter training. All are major achievements in themselves for most ordinary people. She then trained flying F-4s at George AFB in the high desert; and became the top bomber on F-4Es where she was a weapons systems and electronic warfare officer (WSO/EWO) as well as a navigator. Her first operational squadron was at Bergstrom AFB in Texas where she flew RF-4s performing photographic and electronic reconnaissance. When the F-4s were decommissioned, she flew one of the last ones out of Germany.
Next, she flew F-111s, F-111Fs, and EF-111s out of Cannon AFB in Clovis, NM, specializing in laser targeting, and radar and communications jamming.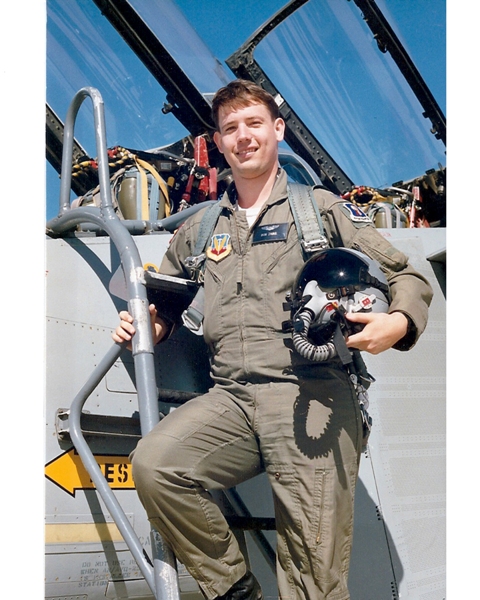 Beginning in 1994, for a decade, she had many months long deployments, including several served at Incirlik AFB, Turkey and in Saudi Arabia where she served enforcing the Iraqi No Fly Zone; and later, from Italy, the No Fly Zone over Bosnia-Herzegovina.
Later, stationed at the Naval Air Station at Whidbey Island, she flew EA-6B Prowlers and was an Electronic Countermeasures officer. She became an Air Force Mission Commander and one the few AF officers to be designated as a Navy Strike Commander. During this time, she was deployed to both Turkey and Saudi Arabia, and served as an Aircraft Maintenance Division Officer.
In 1998, she served in Operation Desert Fox. Flying over Iraq, her aircraft were targeted by SAMS many times. "You get used to it," She said; but, if you think that fighter pilots don't suffer from PTSD, you'd be wrong. At this time she was part of a Carrier Squadron aboard the aircraft carrier USS EISENHOWER, engaged in combat operations and radar jamming over Iraq and the Persian Gulf.
(Author's note: Having served aboard an aircraft carrier in Launch and Recovery, I can tell you that there's nothing more dangerous and testosterone laced than being a tailhook pilot, whether you are male, female, transgender and or intersexed. The intense skill, courage, and steel balls needed to manually guide a fighter jet into a glide path to land at 40 knots onto a pitching and yawing flight deck at sea and have your tail hook grab a cable or crash requires extraordinary heroic people).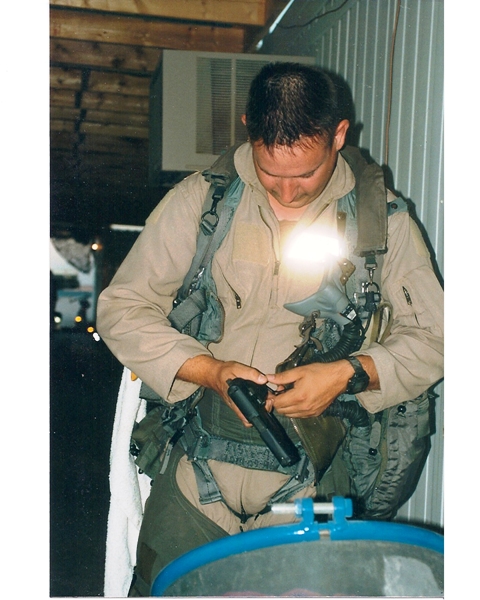 She then trained to fly F-15E Strike Eagle at Seymour-Johnson AFB in Goldsboro, NC where she was the senior officer and leader of her class. She earned a leadership award and a promotion. During this time, the September 11th, 2001 attack happened. She moved to an operations squadron at Elmendorf AFB in Anchorage Alaska, where she became a member of the 'Diceman' 90th Fighter Squadron. From there she served two deployments to Korea.
During the war in Iraq, she was stationed to Turkey for a year at Eskisehir NATO Air Operations Center 6 as an Electronic Warfare officer.
Her final three years of duty were at Colorado Springs as Deputy Director for Schriever Wargames, among other things creating environmental stress scenarios and seminars dealing with space survival and other war planning envisionments. Her duties included briefing multi-national and US Government agencies, Fortune 500, SECDEF, and Pentagon leadership.
Then she retired. Her awards, medals and ribbons include a Defense Meritorious Service Medal with 2 oak leaf clusters, an Aerial Achievement Medal with 2 oak leaf clusters, a Commendation Medal, an Air Force Achievement medal with 1 oak leaf cluster, a Navy Achievement medal with 1 oak leaf cluster, a Joint Meritorious Unit Award, an Air Force Outstanding Unit Award with Valor Device and 4 oak leaf clusters, an Air Force Organizational Excellence Award with 2 oak leaf clusters, a Navy Meritorious Unit Commendation, a Navy "E" Ribbon, a Combat Readiness Medal with 2 oak leaf clusters, a National Defense Service Medal with 1 service star, an Armed Forces Expeditionary Medal with 1 service star, a Southwest Asia Service Medal with 1 service star, a Global War on Terrorism Service Medal, a Korean Defense Service Medal, an Armed Forces Service Medal, an Air Force Overseas Ribbon Short, an Air Force Overseas Ribbon Long, a Sea Service Deployment Ribbon with 3 service stars, an Air Force Longevity Service with 4 oak leaf clusters, a Small Arms Expert Marksmanship Ribbon (Pistol), an Air Force Training Ribbon, and NATO Medals – Yugoslavia and Turkey.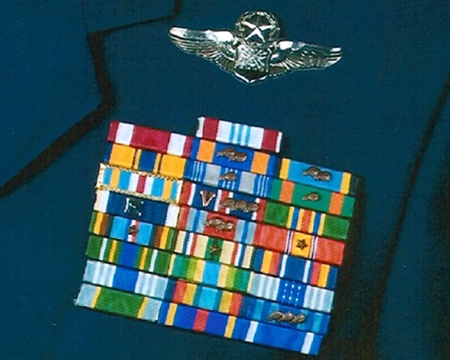 Then she went to work for NORAD as an air operations planner for special security events such as shuttle launches; global force manager, and interagency negotiator planning command and control with the Navy and other departments.
And finally, after serving our nation as a hero and as a civil servant, she retired in 2013 to begin the process of serving her own needs, of seeing to her own well-being. She at long last could explore who she was as a woman who no longer needed to meet other people's expectations. It was a long process that included working with VA therapists. Endocrinologists, and others. But, Shari Zabel is no ordinary person. She is someone who moves forward with confidence and determination. She became her own self activist. One wouldn't expect less from a fighter pilot.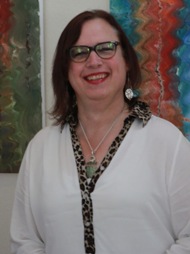 Having the 'Right Stuff' to be one of America's rare heroes of the air, flying our most sophisticated aircraft over enemy territory and over the seas, is not simply about rugged courage and bravery. It takes a whole lot more, including the patience and ability to earn multiple advanced degrees in aeronautical science, navigation, weapons systems, electronic warfare, and more; as well as having the extraordinary physical and mental superhero elements of being able to fly upside down at 9 Gs or zero while multitasking, manually piloting, and monitoring multiple meters, gauges, and digital readouts, radio communications, and radar while remaining perfectly calm and professional. Just imagine someone saying that she shouldn't have been allowed to serve!
©2015 GayMilitarySignal