Trinity Abigail Downing
Rodeo Rider
Soldier
Expert Marksman
Trans Woman

By Denny Meyer
Trinity Downing always wanted to serve in the United States Army; as a boy, her dream was to become a Green Beret. Like most transgender people, she always knew she was different; yet that never conflicted with her desire to serve her country.
Most folks find it hard to fathom the clothing choice between a pretty dress and high heels or camouflage and combat boots, yet so it was for her and so many others like her. The uniform and boots work better than a dress and heels when jumping out of a helicopter gunship wearing 80 pounds of gear; and the adrenaline rush is more intense, particularly under enemy fire. It seems like it would be hard to understand why someone like her would choose the latter; but the statistical fact is that Transgender Americans are twice as likely to volunteer to serve as anyone else in the general population. I don't think anyone has yet figured out why that is; but from the dozens of transgender veterans I've interviewed, the simple reason has always been the same: Patriotism.
Her parents were conservative Christian fundamentalists. Her dad had been an Army Sergeant in Vietnam where he earned four Purple Hearts. Her mom was a substitute teacher and beautician. Her stepfather was a musician and engaged in industrial sales who taught her to read blueprints and play the guitar. Any early questions and talk about wanting to dress like a girl were met with stern admonitions about being against God's wishes, both by parents and grandparents. Her somewhat painful and confusing childhood was spent preferring her mother's and grandmother's company as she grew up, first at Ft. Bliss, and later in Ferguson, Mo.
Her pre teen years were rather lonely and depressed. She was picked on a lot at school because she wasn't a typical boy; she was small, and more into music than sports. But, as she entered her teens, she overcame all of that as she was determined to prepare herself to qualify to serve in the Army. She got into boxing and wrestling and turned out to have had stamina and been a good fighter. Still, there was always the sense of being different and alone and having had to deal with a physically abusive father.
In the rather isolated Southern environment in which she lived, she didn't really understand "why my body was not changing the way I wanted it to change. I didn't understand why I wasn't the same as girls." And yet, with all that lonely confusion, she had no word for who she was in that world.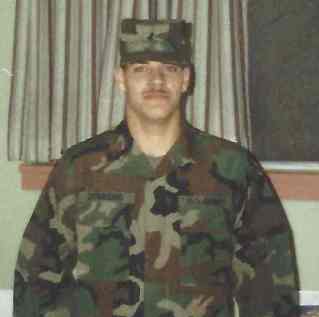 And so, as soon as she could, at age 17, she did the one thing that she did understand that she wanted to do. She joined the Army. It was the one thing that gave her a sense of purpose; the one thing that had meaning for her. Everything else was just plain confusing. But becoming a soldier was always the clear direction in which she wanted to take her life. The duty and honor of serving gave her the strong sense of purpose and the patriotism of doing so held the meaning she had always sought. It was something to live for in an otherwise confusing world.
In the Army, she hung out with cowboys and cowgirls, riding bare back and bulls in local rodeos. Among her fondest memories were the adrenaline rushes of intense anticipation sitting astride an angry sweating bull in a chute as National Anthem is played, moments before the door poped open and the bull exploded out determined to shake her off. She was a happy solider who had found a sense of purpose and belonging. Bloody hell; Don't dare call this girl a sissy!
The Green Beret/Special Ops thing never quite came to fruition; but she found her place, as many of us have while serving, doing something unusual and important that we'd never have learned on the outside. She became a Water Treatment Specialist. She was deployed to Saudi Arabia during Desert Storm, doing desalination work at a forward treatment center near the Iraq border. While deployed in Honduras, she was a unit sniper (she was an expert marksman), providing security for combat engineers building an airport. In 1988, near the DMZ in Korea, she was on high alert during the Olympics when river mines exploded near her base. At all times, while serving, there was the constant stress so many of us have suffered over the fear of being found out for who we are; inevitably resulting in PTSD.
After a knee injury, on duty, she served stateside in Virginia, undergoing several surgeries without getting better, until she was eventually given an honorable discharge. For her service, she received a Joint Service Commendation Medal, an Army Achievement medal, a Good Conduct Medal, a National Defense Medal, a Southwest Asia Service Medal, an Iraq Campaign Medal, an Army Service Medal, an Army Overseas ribbon, an Army Reserve Components Overseas training ribbon, a Kuwait Liberation Medal – Kingdom of Saudi Arabia, and a Kuwait Liberation Medal – Emirate of Kuwait.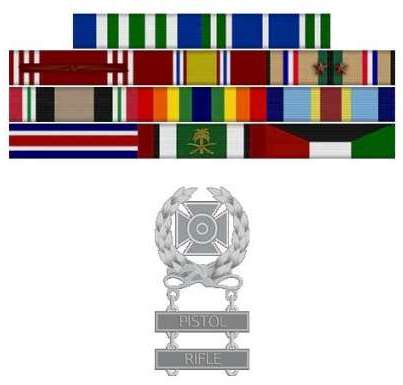 After that, she lived through a very long period of adjusting to civilian life, PTSD, finding herself, and self discovery. It was not until just a few years ago, that she became fully aware of who she really was, and could finally build a stable satisfying life.
She is married, and the parent of three wonderful children, and has a successful career, working openly, as an aircraft parts designer at a major American aircraft corporation.
Her life and particularly her service demonstrate that, in spite of traumatic circumstances, the resilience of this red blooded American transgender trooper enabled her to serve with distinction, as good as or better than any ordinary soldier.