Joanne Carroll
MSGT, USAF, Ret.

by Denny Meyer
Joanne Carroll is a seventy four year old retired US Air Force Master Sergeant Trans Woman. She calls herself lucky because she's in good health, has Tricare, Medicare, retirement benefits, and has reared seven children. As you might imagine, her successful life is a story of determined perseverance.
Her parents were solid and deeply religious, and moved from Canada to Minnesota when she was a young child. In Canada, her father had been a missionary traveling on horseback between lumber camps in British Columbia. Beginning at age 4 or 5, she slowly and silently grew to become aware of herself, getting the first glimmering of understanding when she heard about Christine Jorgenson in the early 1950s. Her early school friends were always girls. Later, she learned how to hide and avoid being bullied for having a Canadian accent, being small and regarded as a sissy. Then, in her teens, she began an era of what she called 'acting,' hanging out with hoods, with a ducktail hairdo, wearing boots, and smoking. Think of Marlin Brando in the 1950s.
Surviving high school, shortly after the Korean War, she joined the Air Force, as a pragmatic Midwesterner seeking the security of the GI Bill. As many of us who have reenlisted more than once know, one thing leads to another and before you realize it, you are in the midst of a military career. According to MSGT Carroll, and my own experience, you get used to the security of a good job with regular advancement, nearly unlimited benefits, three meals a day, and the kind of respect that a senior NCO achieves through steady hard work. Joanne Carroll earned all that over a 22 year career in the Air Force.
She also earned a Meritorious Service Medal with Bronze Oak Leaf Cluster; an Air Force Commendation Medal; two Presidential Unit Citations; the Air Force Good Conduct Medal with 4 Bronze Oak Leaf Clusters as well as an Army Good Conduct medal; the National Defense Service Medal, a Vietnam Service Medal with two Bronze Stars; an Air Force Longevity Ribbon with Silver Oak Leaf Cluster; the Air Force Small Arms Expert Marksmanship Medal with Bronze Star, a Vietnam Campaign Medal with device; and a Vietnam Gallantry Cross with Palm.
Advancement in the Air Force isn't exactly easy. And getting that last medal, among some of the others, only comes from courageous action in places that weren't exactly safe. As I've often said, there should also be a Rainbow Ribbon for having served in silence, with oak leaf clusters for every reenlistment, and a bronze star for achieving retirement.
So, why did Joanne join the Air Force rather than another service? For someone who grew up amidst the farms of the Midwest, it was simple; she didn't want to get dirty or wet. It also seemed the safest. Well, perhaps, but she spent the Vietnam War deployed in the remote hinterlands of South East Asia that were crawling with Viet Cong infiltrators, earning every one of those medals.
She called the 'safety thing' "a lullaby." But still, she stayed on out of patriotism, and the economics of being married, twice. Just as important, for Joanne, was the camaraderie of service friends, that is different from anywhere else. Even though she kept her secret from them, the depth of such friendships were deeply meaningful for her.
Her military career work focused on 'food safety, sanitation, and inspection.' She so excelled in her knowledge and performance of her duties that she had already become an instructor as a Senior Airman (E-4). During the Vietnam War she served in Alabama, Texas and Thailand, becoming an egg inspector and CBR Warfare expert and instructor, among other related preventive medicine duties.
Serving with an air commando squadron (Air Force Special Ops) in Thailand, she was involved in civic actions, counterinsurgency, and village pacification, often in remote locations, at times in the vicinity of Thai Cong forces, close to the Laotian border in conjunction with the Thai Government and US Army Special Forces, traveling around both by jeep and Fairchild C123 Provider transport aircraft as part of the Lucky Tiger Project (engaged in enemy communications interdiction).
Continuing to be promoted, she became a Master Instructor at Shepard AFB in Wichita Falls, TX. Later, at the huge Air Force Base in Athens Greece she served for three years as an AF Veterinary Service Superintendent, as a Tech Sergeant where she became NCO of the year in the mid 1970s. Her duties involved inspection of commodities provided to US Navy ships at the Piraeus homeport of the 6th Fleet. Her final tour of duty, prior to retirement as a Master Sergeant, was at the Air Force Academy in Colorado.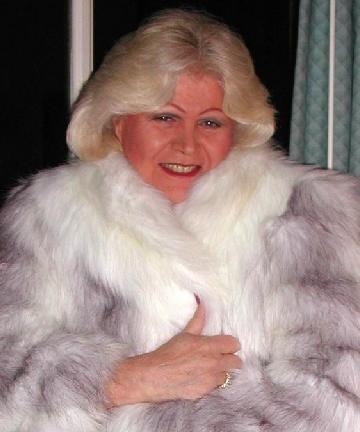 Throughout this successful military career, she felt a steady sense of accomplishment, while being a loving provider, husband, and father. And yet, according to Joanne, underneath that perfect life, she suffered in silence, torment, and isolation; always wishing that she could be her authentic self as a woman. And yet, despite all that internal turmoil, throughout her entire military career she performed her duties in a consistently outstanding and often heroic manner; a clear demonstration that transgender personnel are at least as fit to serve as anyone else. Just imagine the determination and courage it took to carry on all those years! Hopefully soon, we will see that patriotic volunteers like her can serve in an even superior manner, when they are able to serve openly as who they are.
After all that, many folks might retire and relax on a well-earned pension. But, life fulfillment was just beginning for Joanne Carroll. First she went to college and studied political science, economics and business. Ever a mid-westerner, she moved to Great Falls, MT in the early eighties and worked as an NCO club manager. She then entered the hotel industry, working her way up from night auditor to general manager. In the mid-nineties she moved to Pocatello, Idaho to become general manager of a large property; where she at long last began the transition process with hormone treatment and participation in support groups. After a series of moves through Texas, Utah and Colorado, she completed her transition in Scottsbluff, Nebraska (of all places! Really?).
Now retired in Central Pennsylvania, she is President of TransCentralPA, which provides meetings, education, advocacy, and support to transgender adults and youth in Pennsylvania. In that role she works with organizations, businesses, churches, and schools in communities within Pennsylvania with the aim of assisting them in discovering ways to accept and affirm trans-identified persons.
What is most important to her as a veteran, she said, is for DoD to allow open transgender service. The current policy, banning transgender personnel as medically unfit, even affects her as a retired service member. She is working to have her discharge document changed to show her correct gender.