Laura Catherine Perry
MAJ USAF, Ret.
An Identity of Service
in a Transitional Era

by Denny Meyer
As we journey through life from toddler to senior citizen, our individual sense of 'who we are' grows and evolves to form a whole identity. For some, there are conflicts between parts of our group identity and our 'sense of self.' In other words for example, you may early on sense that you are naturally a female, but the family, society, religion, and nation that you are a part of tells you, "NO! You are a boy, act like one!" It can get incredibly more complex than that. For example, if you know you're a girl, then the family, society, religion and nation around you tells you, "girls like boys and that's what you must do!" But, if you happen to be a boy girl who like girls, well, life becomes a challenge. And the challenges just grow and grow as you take on your life's work identity. Some things just don't make sense to start with, such as the the United States Air Force term for its service members: Airmen, regardless of whether they are men or women. OK, but, what if you are an Airman who is a woman, who likes women, stuck in a man's body? And what if being that is just plain forbidden in our armed services? Who can you talk with about all that? How do you journey through an entire twenty year career, like that, as an officer and keep it all together? Now imagine someone with the strength of character to have done just that without really ever having had any sense of identity conflict! Imagine that your strongly held and proud identity through your adult lifetime is "Air Force Officer" and that you had found a way, day by day, to know who you were all along with all that baggage. Imagine being that person and having served a perfectly ordinary full career, retiring as a Major with an honorably respectable assortment of medals, ribbons, and awards. Meet Laura Catherine Perry, MAJ USAF, Ret.
The more I contemplated living that life, the more I understood the meaning of courage! Laura Perry served our nation from 1983 to 2003, spanning the eras from pre-DADT through nearly the current post DADT era. The Don't Ask Don't Tell policy never applied to Transgender American Patriots, of course; it only applied to Lesbian, Gay, and Bisexual volunteers. Serving a military career, the entire time, as a member of the most misunderstood, most unwanted, and most discriminated against minority takes unimaginable courage. Doing so in pride because you 'want to,' because 'serving your country' is who you are, takes unimaginable strength of character! Many proud veterans served just one enlistment of just a few years and escaped gratefully back into civilian freedom to live life as they choose. If they are gay, lesbian, bisexual, Black, female, transgender, and or other minority, they often have mixed feelings about their service; pride in service, mixed with unrelenting revulsion at the pervasive racism, sexism, religious proselytizing, transphobia and homophobia that is sadly endemic to this day in our armed forces. Laura Perry served and lived through all that, honorably and sanely, for a full twenty year career.
Who is she? In an hours long interview, I began to see someone with a healthy set of identities that are perfectly normal: a loving spouse, a loving father, a proud veteran, a transgender woman. In that order? I asked her. Well, as for the last part, she and everyone who knows her simply thinks of her as a woman. Right.
She grew up in a small town in New England, where nearly all the neighboring homes were filled with members of her extended family. All the children were nearly the same age and all played together in harmony. Her father was a Korean War veteran and worked locally as the town's veterinarian, her mother was a school teacher. As a boy, she was fond of wearing her dad's Air Force jacket. Middle school and high school were a bit awkward for her; but who hasn't experienced awkwardness, one way or another, growing up in mid century America. Growing up confusion about dating and gym class showering and changing, and all that, were pretty normal experiences even for gender content and heterosexual kids. Despite added confusion about dating girls and wanting to be one, she was bright and did well academically and went on to college and graduate school. She became a Social Worker, mental health professional specializing in dealing with domestic violence.
So, how did any of that figure into becoming a career Air Force officer? Some of us, despite anything else counterintuitive in our background, are simply patriots. Her father's Korean War service may have influenced her choice of the Air Force, perhaps, but the decision to serve, according to her, was pure patriotism. There was, also, a need for an identity; and there was a great deal to choose from, of course. It is a statistical fact, Transgender Americans are twice as likely to volunteer to serve in our armed forces as ordinary folks. Each generation of patriots has their own 'generational marker' or event that sparks their motivation to volunteer. 1960s protest flag burnings sparked some of us to volunteer during Vietnam; 911 sparked Millennials to volunteer. For Laura, it was the Iran Hostage Crisis with TV images of American helicopter gunships that motivated her. With her degrees in psychology and social work, she could have worked almost anywhere; but she courageously chose to pursue her career in the Air Force Medical Corps. Her dedication remains so steady, that even after retirement and after transition, she continues her work, now, as a civilian healer of Air Force personnel at Air Force facilities.
As anyone who has ever served knows, you don't get to choose what to wear. The Uniform of the Day is what it is, period. After the first few weeks or months, it gets pretty boring wearing the same drab garb every single day. You don't get to decide, "Oh, I think I'll wear a woman's uniform today..." Although I've fantasized about a future time when the 'Plan of the Day' routinely lists: "Uniform of Day for Transgender Personnel." OK, never mind. What Major Perry did, routinely and without fuss, was to occasionally wear women's undergarments under her always proper uniform. Many years ago a California State highway billboard campaign urged motorists: "Put on your seatbelts, then you wont have to worry about wearing clean underwear." "Weren't you worried about what would happen if anyone found out?" I asked. "Not really, it never occurred to me, and nothing ever did happen," she told me. For most of us, its terrifying just to think about; but that was one of the ways she simply calmly carried on through an entire uneventful military career. Bloody hell, that's courage!
In her service, she volunteered to be deployed to Saudi Arabia, during Operation Southern Watch following the Khobar Towers bombing there, where she led a mental health contingent on desert base duty. She never felt better than during deployment, she told me.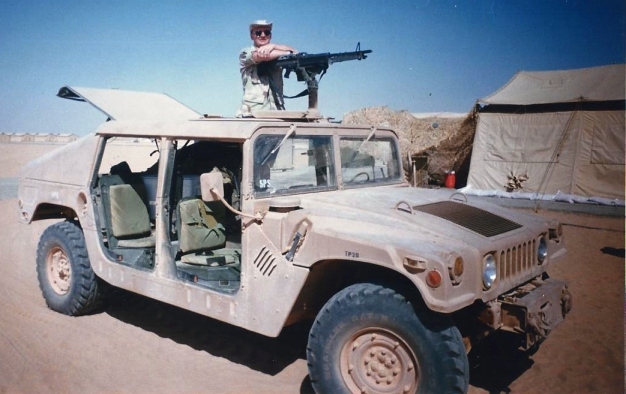 Her duty stations included: Strategic Air Command, Wurtsmith AFB, MI; US Air Forces in Europe, Hahn AB, and Spangdahlem AB, Germany; USAF Academy, Co Springs, CO; Air Combat Command, Langley AFB, VA; and AF Space Command, Patrick AFB, FL.
Several years after retirement, she transitioned, and has continued her work, as a civilian mental health professional, serving Air Force personnel on air bases. Her most remarkable experience, following transition, has been to experience 'discrimination as a woman.' Imagine that! She described the transitional process as being somewhat like being an immigrant: "taking hormones was like getting a visa, being able to change her name was like getting a green card, and having sex reassignment surgery was like getting citizenship!" For the first part of her life, she said, "I was faking it as a guy; now, I'm getting used to not faking it as a woman."
Among her medals and ribbons for her service, she was awarded, an Air Force Achievement medal, an Outstanding Unit Award with 2 bronze oak leaf clusters, an Air Force Commendation medal with 2 bronze oak leaf clusters, an Air Force Meritorious Service Medal with 1 bronze oak leaf cluster, an Air Expeditionary medal, an Air Force Training ribbon, an Air Force Marksmanship medal with 1 bronze star, an Overseas Long Ribbon, and an Air Force Longevity Ribbon with 4 oak leaf clusters.
This story has been about a perfectly ordinary and unremarkable military career of honorable service. There actually wasn't much to tell, really. And that is just the point! What is remarkable to realize is that a transgender patriot could and did serve our nation for a full and uneventful career, just as so many others have done and continue to do to this day. As our allied nations have long ago realized, transgender personnel serve with as much honor and distinction as others do.