New Inclusive Memorial
Honors LGBT Veterans

by

LTC Steve Loomis
Albuquerque, NM - This Memorial Day 2014, Bataan Chapter of American Veterans for Equal Rights dedicated an inclusive monument in recognition of GLBT service to our country and the knowledge that service of gays extended back to Valley Forge. This is the first Inclusive LGBT Veterans Memorial in New Mexico and only the third in our country and was approved by the City of Albuquerque and the New Mexico Veterans Memorial Park. Now with the end of Don't Ask, Don't Tell, many of our GLBT veterans stepped proudly into a glow of open service to our country.
| | | |
| --- | --- | --- |
| | | |
| Dedication of Inclusive GLBT Memorial at the NM Veterans Memorial Park in Albuquerque, NM on Memorial Day 2014. Photo: Stephani Patten | | Congresswoman Michelle Lujan Grisham, D-NM, gave the dedication remarks emphasizing GLBT veterans service in silence. She added "The transgender community was left out of the Don't Ask, Don't Tell repeal, and its yet another thing that Congress must address...." Photo: Stephani Patten |
Made of rose granite, this inclusive memorial has been placed in a prominent location within the park. A plaza of bricks, each embossed with the name and service of an individual servicemember form the strong base of the monument. These bricks are important to the memorial as demonstrated by one particular brick. It is the story of one man who meant a lot to us in New Mexico.
During the Great Depression, a boy was taken to the Hersey's School for Boys in Hersey, PA when his family could no longer support him. He studied and graduated proudly. He joined the U.S. Navy where he served on board the USS Bennington aircraft carrier during the Korean War. He was on board that fated ship when it had a disastrous explosion in one of the catapults killing 103 crew members and injuring many more. He was spared, but many of his friends died that day serving their country. He was always proud to be a sailor, to serve on the Bennington and proud of the men he served with.
Sometime later he was discovered to be gay and was summarily discharged as so many others were at that time. For many years he hid this fact from his friends, family and co-workers. When he retired, he moved to Albuquerque, making new friends and for the first time openly taking up the causes of our gay community, including our youth, and our veterans. I was proud that he and I were founding members of our local AVER chapter and he was among the very first who volunteered his time at this beautiful veterans park in which the monument now lies.
During pride week of 2011 he died unexpectedly in his home. That man was our friend and AVER member Donell T. (Don) Stevens, whose important estate gift made possible the start of this memorial project.
He was just one example of many patriots who served their country in harm's way through two World Wars, Korean War, Vietnam, Panama, Desert Storm and most recently, Afghanistan and Iraq. He was just one of many of us who made that service in silence. This memorial now stands in recognition of their service and includes all those men and women, straight and gay, they proudly served with since the difficult days of Valley Forge.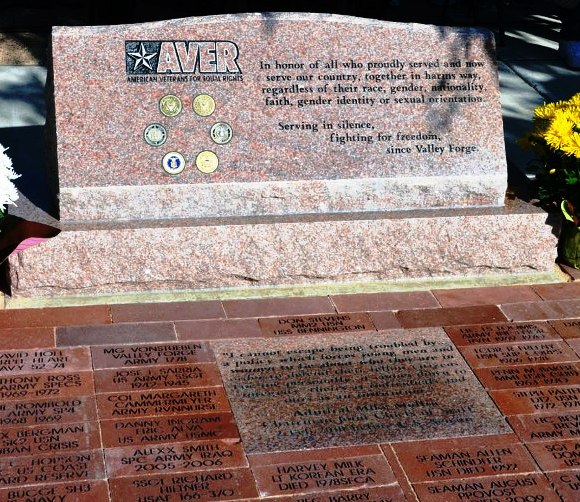 At the recommendation of a straight ally on the park board, Colonel Roger Knight, Army Rangers (Retired), the memorial with its carefully selected inclusive inscription is in the "Serving with Honor" section of the New Mexico Veterans Memorial Park. The inscription reads:
In honor of all who proudly served and now serve our country,
In harm's way, regardless of their race, gender, nationality,
faith, gender identity or sexual orientation.
Serving in silence, fighting for freedom, since Valley Forge.
Surrounding the monument is the plaza of red bricks embossed with the names and branches of LGBT service members and supporters. In the center of the plaza are bricks remembering LT Harvey Milk, Seaman Allen Schindler, Seaman August Provost and PFC Barry Winchell who died because they were or were perceived to be gay. They are now surrounded and remembered by their fellow service members.
The struggle for GLBT inclusion in our military was superbly described by Admiral Mike Mullin, Chairman of the Joint Chiefs of Staff when he testified in a moment of succinct truth before the U.S. Senate in 2010 in support of repealing Don't Ask, Don't Tell;
"I cannot escape being troubled by.... a policy which forces young men and women to lie about who they are in order to defend their fellow citizens. For me personally, it comes down to integrity - theirs as individuals and ours as an institution."
His statement is placed among the memorial bricks.
This was a very special Memorial day. The dedication was a gratifying success as 300 people, gay and straight, attended with standing room only, as the sun set on a beautiful Memorial Day 2014 in the Land of Enchantment.
This effort has been led by the Bataan Chapter of the American Veterans for Equal Rights with contributions and the support of our community and the Veteran's community in the form of major donations and bricks embossed with individual's service to their country of LGBT vets from the high desert and across America. One of my favorite bricks says simply, "Loving father of a gay son, USAF 35 years."
There is room for more bricks recognizing individual service or that of friends or family to be placed in a second order this summer. You may order your brick for placement at: http://www.aver-nm.org/aver-bataan_website_v2014-04_003.htm
Work such as this and our success in repealing Don't Ask, Don't Tell is the foundation of our continuing work to obtain all our rights; including transgender rights to serve, the right to marry across every state in the union, and passage of the Federal Employment Non-discrimination Act.
We must continue to support each other, to reach out to our fellow vets and active duty and support the completion of the fight for our rights. When we do this for each other, we will all be better for it. Remember, our hard won 17 year battle to repeal DADT has now encouraged many states to open the right to marriage to our community. If you go in harm's way to serve your country, you deserve all the rights of citizenship.
Among the many major donors to this important project was Equality New Mexico. "LGBT people serve in the Armed Forces with dignity, honor, and an unwavering commitment to duty," said Amber Royster, Executive Director of Equality New Mexico and U.S. Navy Veteran. "... many servicemembers have paid or will pay the ultimate price in serving our country. As a Veteran, a lesbian, and proud New Mexican, I applaud AVER Bataan Chapter, the City of Albuquerque, and the New Mexico Veterans Memorial Park in establishing this important symbol of service and equality."
This is a long dreamed project to recognize the many GLBT Veterans and active service members in New Mexico and across the country who have served our country faithfully and well. Our service from Valley Forge to Afghanistan has been with great, sometimes very difficult and often silent service to our country.
I commend each of you who have on your own or with your AVER Chapters, worked once again to recognize the service to our country of our many veterans of past and recent wars. By honoring them, you give honor to your own service to America.
I thank you for your work on behalf of our veterans and servicemembers, and again, I thank you for your service to our country.
*****************
To order bricks, go to http://www.aver-nm.org/aver-bataan_website_v2014-04_003.htm. For further information about the memorial, contact Chapter President Stephani Patten at 505-401-4186, email at slpatten2004@gmail.com or Steve Loomis at 505-301-1737, email at sloomis@swcp.com.
AVER is supporting the development of an LGBT Memorial in the Congressional Cemetery in Washington, DC. For more information see http://nlgbtvm.org/Home_Page.html.
*****************
American Veterans for Equal Rights (AVER) is a non-profit, non-partisan, chapter-based Veterans Service Organization of active, reserve, and veteran service members dedicated to full and equal rights and equitable treatment for all present and former members of the U.S. Armed Forces, especially the Lesbian, Gay, Bisexual, and Transgender current and prior military personnel who have been historically disenfranchised by armed forces policy and discriminatory laws governing military service and benefits. Learn more and join AVER today.

LTC Steve Loomis is the national President of American Veterans for Equal Rights and a founding member of the Bataan Chapter of AVER in New Mexico. He served in the Infantry in Vietnam then in the engineers and was decorated with the Combat Infantry Badge, Purple Heart, two Bronze Stars, the Air Medal, four Meritorious Service Medals and numerous other awards. He is a graduate of the University of New Mexico.