The son of WWII Holocaust refugees, Denny was reared bilingually in the mid 1940s postwar immigrant community on New York City's Upper West Side. His mother, he notes with pride, arrived at Ellis Island as an illegal alien in 1938. She taught him that, "there is nothing more precious than American Freedom."
He has been an activist for 50 years, starting with his first march with the NAACP at the age of 13 in 1960.
Sgt. First Class Denny Meyer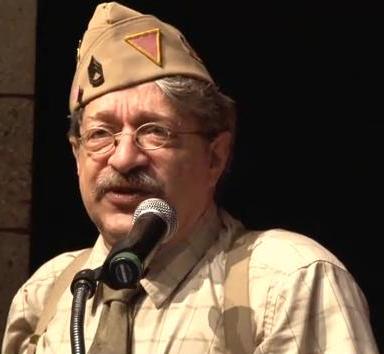 Gay Patriot, Proud To Have Served
In 1968 he volunteered, "To pay my country back for my family's freedom." He served for ten years in two services; in the Navy aboard an aircraft carrier, in a helicopter squadron, at NATO US headquarters; and in specialized Army Reserve units; and served as an inter-agency liaison and negotiator.
Sgt. Denny has spoken at universities and colleges including Brown, Columbia, George Washington U, Harvard, Hofstra, Lehman (CUNY), Tufts, and Univ. of Southern California,among other venues; combining history, humor, pathos, and anger to tell his story.
He is the national Public Affairs and Veterans Affairs officer of AVER and edits GayMilitarySignal.com