LeAnna Bradley
37 Years of Service

by Denny Meyer
LeAnna Bradley grew up in the 1930s &1940s in rural Scotts Bluff Nebraska where, as a boy of 4, she sat by the hearth at home studying the Sears Roebuck catalog dreaming of buying pretty dresses to wear. But, before you begin to form a stereotype image of this lonely transgender child, be aware that that dream was deferred for nearly sixty years while she pursued another clothing option that also inspired her at a young age. The movie theatre newsreels of the era, showing proud uniformed soldiers returning home from war, consumed her young mind with a determination to serve her country, gender contradictions be damned. All things considered, with two Purple Hearts earned as a Sea Bee in combat in Vietnam and a chest full of other medals and ribbons for nearly four decades of service, she did rather well and proudly (Medals and ribbons are listed at bottom of article).
Her parents were the most classic ordinary Americans; her father, after serving in the Navy in WWII, earned his living as a carpenter; her mother was a waitress. They were average Protestants who went to church on Sunday, child in tow. What the boy perceived was pretty Sunday dresses and of course the cookies that awaited following the service; but who knew. Each of us, after all, has our own personal epiphany.
LeAnna didn't do well in school; but, she was an exceptional cub scout and boy scout who thrived on earning badges and ribbons and wearing the uniform. Every day she dreamt of serving in the military where one could become what inspired her most. What can one say, some of us are simply fond of uniforms. Ships at sea filled her mind night and day; for her, the Navy was where she wanted to serve.
But a boy who suffered conflicting gender emotions and played with paper dolls, did not have smooth sailing in school. Partly to escape the taunting, small town life, and partly to begin to fulfill a dream, LeAnna joined the Nebraska Guard during the Korean war at the age of 15. Courage has many forms; had the war not ended, this youth would have been deployed to those terrible battles. Yet for LeAnna, the service was a sanctuary of freedom and the first fulfillment of the life she had sought throughout her youth. When she was 16 in 10th grade, she and her unit, the Gerring Nebraska National Guard, 134th Infantry, 34th Tank Battalion, had been ready to deploy to Korea, but the order was cancelled at the last moment.
Just after turning 17, LeAnna joined the US Navy in the summer of 1955. Because of her scouting and National Guard experience, she served in the Great Lakes Naval Training Station's Drill Team and Honor Guard. Not bad for a boy who had been bullied and taunted as a sissy since age 9 through elementary, junior high, and high school. On the contrary, she'd always known where she wanted to be, what she wanted to belong to; and once there, she was outstanding from the start. And contrary to the belief that transgender Americans are unfit and too unstable to serve, she never once faltered through the more than three decades of service that followed as she advanced through the ranks, combat training, and the misfortunes of war far from home.
It was not an easy life; but it was the life she chose to live in order to proudly and patriotically serve. In uniform, she was always the most neatly spit shined in any unit she served in. On her own, during time off on liberty, she found occasion to dress as a woman, briefly in seclusion, for moments of complete fulfillment of who she is. That did not interfere with her professionalism as a sailor any more than being a sports or horseback riding enthusiast would.

| | |
| --- | --- |
| | In 1957 she served aboard a destroyer escort and later served on submarines; she then became a member of the elite highly trained Navy Sea Bees. As a Sea Bee, age twenty eight, after already having served her nation for over a decade, she was sent to Vietnam where she served for 31 months. She was wounded twice and spent four and a half months in a body cast recovering from her second combat wounds. |
LeAnna noted that people's first impression of her has always been that this sailor is rather feminine and presumed to be gay. Considering her military career, judging a person by their appearance and mannerisms is not the best way to determine an ability to serve America in combat. Like at least 50 percent of transgender people, LeAnna is not gay and never was. Prior to her transition late in life, she was married and has a son (who proudly served in the Navy, like his father and grandfather did before him). Now, following transition, she is lovingly partnered.
In her long naval career, she was a torpedo man, Sea Bee mechanic, weapons booby traps expert and unit trainer. As a Sea Bee in Vietnam, she was a weapons security and problems expert, led a 12 man sector, and was responsible for machine gun and mortar pit emplacements.

| | |
| --- | --- |
| | In 1974 she retired as a Petty Officer First Class, after 22 years of service. She continued on as a Naval Fleet Reservist for more than a decade. And at age 51, she became an officer in the Sea Cadets, imparting her years of training, leadership, and experience, and knowledge to young people who were determined to join the US Navy. She served seven years as a unit leader, leaving at a Lieutenant after a total combined service of thirty seven years. |
After her first military retirement, in the 1970s, she began to explore her gender identity, visiting doctors, and psychiatrists, joining transgender groups, and participating in research studies. Yet still, she never once let any of that private pursuit ever once interfere with her leadership role as a reservist or Sea Cadet officer. Long after most people would have put their full military careers behind them to at long last pursue personal concerns, she carried on serving her country, while still sacrificing personal matters by setting aside a lifelong wish until yet later in life. As the list of her lifetime military achievements demonstrates, she does not need anymore medals; and yet she perhaps deserves one more for commitment and self sacrifice.
Least there be any lingering stereotypes in the reader's mind, while a reservist her civilian career was running her own trucking, bus travel, and limo businesses.
LeAnna Bradley transitioned to female at age 60. She is now 71 years old.

Her medals include:
A Vietnam Cross of Gallantry Medal , (Unit 1965 to 1969)
A Vietnam Cross of Gallantry Medal, Individual, with 4 Bronze Stars and fleet marine attachment
A Vietnam Wound Medal (1966)
A Vietnam Campaign Medal (1965 to 1969)
A Vietnam Civil Action Medal (1965 to 1969)
A Vietnam Combat Campaign Service Medal (1965 to 1969)
A Purple Heart with 1 silver star
An Armed Forces Expeditionary Medal with 3 Bronze Stars, 1 Silver Star, and Fleet Marine Device
An Armed Forces Reserve Medal (USN Fleet Reserve)
A Combat Action medal with 4 Bronze Stars
A Cold War Medal (Lebanon service)
An Armed Forces Expeditionary Medal (Lebanon service)
A Good Conduct Medal with 4 Bronze Stars
A Joint Service Achievement Medal (US Navy - US Marines)
A Joint Service Commendation Medal (3rd Marine Division)
A National Defense Medal with 2 Bronze Stars
A Navy / Marine Corps Achievement Medal
A Pistol Sharpshooter Medal with Bronze "S" Attachment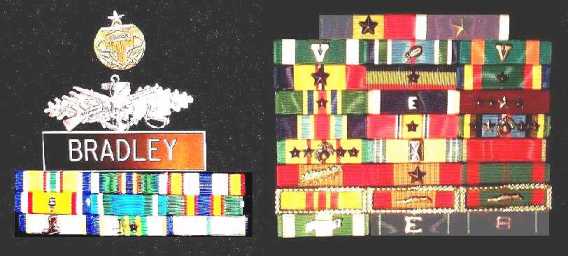 Additionally her citations and or ribbons include:



Meritorious Unit Commendation

(Mobile construction Battalion Seabees MCB-9)


Navy Unit Commendation

(Navy Construction Battalion Seabees MCB-9 )
Navy Presidential Unit Citation
Navy Sea Service Deployment Ribbon
Ship/Boat Service (USS Tutuila ARG-4 and USS Heartley DE-1029 ) (SS ARG-274)
Submarine Service
Training Completion Military Training Instructor US Navy- US Marines
Honorable Service


Vietnam

Naval Service

1965 to 1969
Expert Rifle with silver Large "E" attachment
Foreign Service, Guam
| | | |
| --- | --- | --- |
| | This August in Chicago, LeAnna Bradley got a standing ovation when she spoke in Daily Plaza at an AVER Veterans Remembrance regarding her honorable service, wounds and medals. "In combat," she said, "it makes no difference who or what you are; we are all the same whether straight, gay, lesbian, bisexual or transgender. We are there to do our job for our country and our families." "I was only doing my job," She noted. | |

© 2009 Gay Military Signal