And a Discharge for Loving One—34 Years and Counting:
Leonard Matlovich

By Michael Bedwell
On the 40th Anniversary of Stonewall, San Francisco's Gay Pride parade was, again, a rainbow of colors and causes. It began, as it always does, with the indescribable thrill of seeing and hearing hundreds of "Dykes on Bike" roar up Market Street on motorcycles of every kind. The 208 official contingents that followed over several hours included beefcake and wedding cake, the most gay friendly straight mayor in the world, and one of the few city police chiefs, possibly the only, to march in a Pride parade with multiple out police officers and sheriffs in uniform with their life partners and children. Every year there are more children in the parade, and their hand-lettered "I Love My Two Gay Dads" or "Let My Moms Get Married" signs never fail to make spectators tear up, just as the PFLAG "We Love Our Gay Son/Daughter" signs do.
There were gay theists proclaiming, "My God thinks I'm FABULOUS," and gay atheists declaring, "I believe I'll have another drink." There were gay Jews and gay Muslims; seniors and stilt walkers; labor unions and midwives; American Indian Two-Spirits and gay Vietnamese; gay vegetarians and Pink Pistols. Drag ran the gamut from lace to leather. One group protested circumcision; another cutting AIDS funding. Gay-friendly corporations from Levis to Wells Fargo Bank to Virgin America to Zipcar had floats or employee contingents.
Marriage equality was an expected ubiquitous theme and gays in the military were represented this year not just by the Alexander Hamilton American Legion post but also by a new vets group. As many know, this spring a group of gay West Point vets formed Knights Out to fight Don't Ask, Don't Tell. Its spokesperson, Army Reserve Lt. Dan Choi was a Parade Grand Marshal and rode in a car with discharged Knights Outer and candidate for the Congressional seat just vacated by repeal bill sponsor Ellen Tauscher, Anthony Woods.
| | |
| --- | --- |
| Loonard Matlovich at the Berlin Wall | As the cheers went up as they passed, from experience one is confidant that many of those thousands are unaware that the fight against the ban goes back three decades. And that the first to fight it purposely outed himself as Choi did. But when US Air Force Tech. Sgt. Leonard Matlovich told his commanding officer that he was gay in March of 1975, neither Choi nor Woods were even born yet. |
Gerald Ford was president. The last American deaths in Vietnam, and the first from AIDS, were yet to be reported. Patty Hearst was still a fugitive and women were yet to enter the military academies. There were no cell phones or CNN. The first successful PCs, with only 1 KB of memory, no keyboard, mouse, or screen, were shipping but there was no Microsoft, Apple, nor public Internet. A new Cadillac El Dorado was $9935, 8-track tape player extra, and gas 44¢ a gallon. No Pac-Man or Prozac, no MacDonald's drive-thrus, no test-tube babies. Median US income was $11,800, stamps 10¢, and VCRs $1000. There were no civil unions or domestic partnerships. It was before Rocky and Star Wars and Top Gun, before A Chorus Line and Cats, before Cheers and Saturday Night Live. Harvey Milk was in his second of four tries for office and politically unknown outside of San Francisco. Martina Navratilova, 18, had yet to ask for US asylum, footballer Dave Kopay had not come out, and Elton John was yet to marry Ms. Renate Blauel. The Suez Canal was still closed, the Berlin Wall was still up, Ali was yet to fight Frazier, and the YMCA was still to sue the Village People. Mao, Sadat, Hoffa, Chaplin, Elvis, and John Lennon were still alive. Michael Jordan was in middle school; there was no Tiger Woods. Not only was there no Knights Out, there was no AVER, SLDN, Servicemembers United, HRC, or NCLR. Barack Obama was 13.
And, after the New York Time's published a front page story on Leonard's unprecedented test case, after he appeared in people's living rooms on national talk shows and Walter Cronkite's CBS Evening News, after he showed up in their mailboxes on the cover of Time magazine, he became the first national celebrity in the fight for gay rights. I have heard gay men say they remember where they were when Kennedy was shot and where they were when they first saw the photo of him in uniform over the caption, "I Am A Homosexual."
His road to becoming what writer Malcolm Boyd called, "the Charles Lindbergh of the gay movement," was a tortured one. After being raised in a devout Catholic home, the son of a politically conservative career airman, he served three tours of duty in Vietnam where he won a Bronze Star and Purple Heart. Like Harvey Milk, he had been a Goldwater supporter. Unlike Milk, he was thirty before he made love to another man for the first time.

He'd begun to question his own internalized homophobia after he had realized the racial bigotry he'd grown up with in the South was wrong and he had become one of the Air Force's most successful Race Relations Instructors for classes created after race riots had broken out on bases a few years before.
Seeing an interview with gay rights pioneer Frank Kameny in the Air Force Times, Leonard, like countless others over the years, called Kameny for information—just as countless others would eventually call him.
Not yet ready to say he was gay himself, he was intrigued when Kameny told him that he'd long been looking for a servicemember to launch a "perfect test case." A year later, Leonard was ready to admit he was gay, and when Kameny heard his credentials and willingness to volunteer for that role, the case that introduced America to the injustice of the ban on gays in the military was set in motion, others came out, and gays at New York's 1975 Pride celebration embraced what was for most of them a new cause.
"Leonard Matlovich surveyed the throng with wonder. Two years earlier, he had believed he was the only homosexual in the world. Now he was one among tens of thousands. How had he allowed so much of his life to be wasted in loneliness? A cheer rose from the crowd when Matlovich delivered the line he had used in every newspaper and television interview since his case went public. … With [him] were the other heroes of the moment: Staff Sgt. Skip Keith in his blue Air Force uniform and Barbara Randolph and Debbie Watson from Fort Devens. When the four of them stood side by side at the microphone, waving to the crowd that billowed through Central Park, a huge ovation rose up and it felt as if their spirits had also lifted into the air and soared over the city's skylines. It was a moment Leonard would cherish for the rest of his life." – Conduct Unbecoming, 1995. by Randy Shilts.
For the first time, it wasn't just big city newspapers that followed a gay rights story, but small town readers of everything from the Beckely, West Virginia, Post Herald to the Elyria, Ohio, Chronicle Telegram to the Harlingen, Texas, Valley Morning Star to the Pocatello, Idaho, State Journal woke up to "Homosexual GI Fights Discharge From Military" and "Decorated Vet May Be Ousted If Found To Be Homosexual."
And it wasn't just Leonard's unimpeachable military record that intrigued both press and public. He didn't look or sound like any gay person they'd known before. He cared no more for Grand Opera than the Grand Ole Opry; had never heard of The Advocate until they called to interview him; and pried open previously closed minds by his very ordinariness. CNN's Larry King would write, "I owe my liberation from whatever stereotypes I've managed to escape to a remarkable man named Sergeant Leonard Matlovich." At least one reporter asked, "Are you really gay?"
"He could be your next-door neighbor, a mechanic, accountant or the family doctor. He wants what you want: a decent job, a comfortable home, love. His name is Leonard Matlovich and he's one of the country's most controversial homosexuals. Today scores of Americans—gay and straight—are following [his] case." – The Associated Press.
"A DECENT JOB, A COMFORTABLE HOME, LOVE." So Leonard refused when one of the prosecutors at his administrative discharge hearing asked him if he would promise to become celibate in exchange for possibly being allowed to stay in the Air Force under a vague, then-possible "exception clause." The hearing briefly exploded when two witnesses called by the prosecution testified they'd happily serve with him again. But his lawyers' constitutional challenges had already been thrown out, and there, and in subsequent civilian court hearings over several years, he would learn that while his personality, perfect military record, patriotism, medals and accolades could disarm peers, the press, and the public, even heroes are defenseless against Justice seen through the eyes of military homophobia. Many since then, of course, have learned the same.
The first made-for-TV movie about a living gay person would follow, as would endless interviews and a financial settlement from the Air Force. But the ban only tightened while Leonard's participation in the broader civil rights movement expanded. He helped lead the fight against Anita Bryant's antigay uprising in Miami and against other local demagogues emulating her across the country. He traveled from city to city raising money to fight John Briggs' anti gay teachers Proposition 6. He led protests against homophobic Pope John Paul's visit to the United States, against Lyndon LaRouche's attempt to quarantine people with HIV, and helped force Northwest Airlines to end their ban on flying people with AIDS. He was arrested protesting President Reagan's feeble response to AIDS at San Francisco's Federal Building and in front of the White House.
"D.C. police wearing long yellow rubber gloves arrested 64 demonstrators after the group blocked traffic on Pennsylvania Avenue …. Matlovich, who recently learned he has AIDS, wore his old Air Force jacket decorated with a Purple Heart and Bronze Star and clutched a small American flag as police handcuffed him." - The Washington Post, June 2, 1987.
And he continued to do what few can—he continued to inspire. Just last year, after viewing video tapes of some of his many speeches and interviews, another writer for the Washington Post remarked,
"He had the knack for taking your heart and making it catch for a moment.... He seemed to make people want to be braver than perhaps they were." – Neely Tucker, November 12, 2008.
Six weeks after telling a Sacramento gay rights rally that, "Our mission is to reach out and teach people to love and not to hate," and more than a decade after telling his African-American Air Force supervisor that his letter outing himself meant, "Brown v. the Board of Education," Leonard Matlovich took his last breath beneath a large framed photo of Martin Luther King, Jr. On one side of his bed, holding one hand, was his roommate, Joe, a nurse cousin, and this writer; on the other side, holding his other hand, his heartbroken mother still trying, like so many mothers during those dark days, to fathom how she had outlived her son. And his father, the stoic conservative who, before retiring after 30 years in the military himself, had stood by his then 19-yr. boy as he was sworn in. Thirteen years before this day he'd opened the morning newspaper and found out for the first time that his son was gay . . . and that he was threatening to sue the United States Air Force for discharging him. He then locked himself in his bedroom and cried for two hours. As he looked down now at the shriveled body finally at peace, his inconsolable grief gently rested against the shoulder of his immeasurable pride.
That Sunday in the Christopher Street West parade in Los Angeles, thousands of the usual, noisy revelers grew briefly silent as a riderless horse passed, being led behind Joe carrying an American flag banner that read, "Sgt. Leonard Matlovich. Hero." A few days later, after his funeral with songs by the DC Gay Men's Chorus and a eulogy by ABC's Charlie Gibson, his coffin was born through the streets of the nation's capital on a horse-drawn caisson. Accompanied by an Air Force Honor Guard, followed by mourners carrying both American and rainbow flags, it came to historic Congressional Cemetery where the year before he'd dedicated a memorial to Navy veteran Harvey Milk, and stopped at the gravesite whose stone read,
"When I was in the military they gave me a medal for killing two men and a discharge for loving one."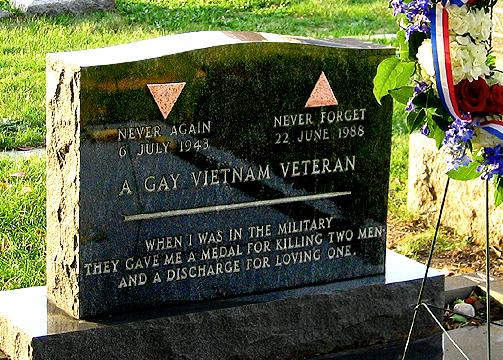 And mainstream media that had documented his crusades for so long paid their final respects, too. Over breakfast, Americans read, "Gay War Hero Buried With Full Military Honors" or "Service Reconciles Life As Military Man, Gay Rights Activist," and saw photos of the Air Force honor guard next to his stone with its pink triangles or his mother's tears fall upon a folded flag. And in the evening, they heard news anchors like Peter Jennings personally recite his indelible epitaph. Since then, other gays, individuals and couples, have chosen to be buried near him. Though never imagining that, he'd always meant that stone to be a memorial to all gay veterans, and, for several years, it has been the site of Veteran's Day observances as autumn leaves rustle across his grave and, a ways off, that of Walt Whitman's great love, Peter Doyle.
THIRTY-FOUR YEARS. It has been thirty-four years since Leonard walked out of the Langley Air Force Base hearing where his discharge had just been announced and held a Kennedy Bicentennial half dollar up to waiting mesmerized reporters. Ironically, it was engraved with an image of Philadelphia's Independence Hall where his mentor Frank Kameny had first led a gay rights demonstration a decade before. Leonard told them,
"It says '200 Years of Freedom'. Maybe not in my lifetime but we are going to win in the end."
As I write this, the momentum for that victory so long overdue seems stronger than ever, but we are tossed from one day to the next between waves of fresh hope and waves of renewed despair. I can't predict whether the hundred thousand plus discharges that began way back in World War II will finally stop with a freeze or go on, day after day, until Congress collects its conscience and common sense.
I am certain of two things.
| | |
| --- | --- |
| | In the fall of 1977, Leonard was invited by Jimmy Carter's Special Assistant, Midge Costanza, for a private tour of the White House where he was photographed sitting at the President's desk in the Oval Office. The 1880 "Resolute" desk is still there today, but the sign that was on it is now in Carter's recreated office in Georgia. Nonetheless, with respect, our current President could do well to be reminded of the sign's original owner, Harry Truman, and what it said: "The buck stops here." |
The second thing I know is that, if there is any justice, when President Obama does finally sign a bill repealing Don't Ask, Don't Tell it should be one named along the lines of The Leonard Matlovich Freedom to Serve Act. And that our Commander-in-Chief should follow the signing with placing a wreath on Leonard's grave in honor of him and every other gay servicemember who has fought for right abroad and at home.
_____________________________________
| | |
| --- | --- |
| Michael Bedwell is the former president of the gay rights group at Indiana University and of DC's Gertrude Stein Democratic Club. He met Leonard Matlovich in 1975 a few days before the Secretary of the Air Force affirmed his discharge. They were roommates in Washington and San Francisco where, last year, he and other friends installed a memorial plaque for Leonard on the building they lived in at 18th and Castro. He is also the creator of www.leonardmatlovich.com. | |
© 2009 Michael Bedwell