Our Whole Self And Whole Story:
Honoring My Friend and Hero
Major Alan G. Rogers
By Tony Smith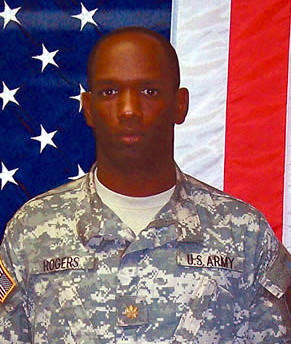 Major Alan Rogers;
Photo: US Army
Here I am, March 14th, 2008, standing on a hillside overlooking the solemn rows of white crosses dotting the hillside against the sunny blue sky. With a cool early Spring breeze blowing against my skin I stand at attention watching the Military Honor Guard take the flag draped casket of my friend Major Alan G. Rogers, USA, from the hearse and slowly lift him up upon the horse drawn Caisson for the full military honors burial procession. This is the last place I expected to be on a warm early spring day, saying goodbye to my friend Alan at his burial in Arlington National Cemetery. But here I am, along with about 200 of his friends, family, community members, Army and other military and DoD colleagues to say goodbye and honor our friend, a true patriot that gave the ultimate sacrifice, his life, while serving in Operation Iraqi Freedom. Alan was killed on January 27th, 2008 while on foot patrol when an IED exploded nearby. I had just spoken with Alan by email the day before on January 26th, and he was looking forward to seeing his friends in DC again. He will be sorely missed.
Alan was a true soldier and loved serving his country. And he was also a gay man. Alan was not someone who hid his sexual orientation. He didn't wear it on his sleeve, but he didn't hide it under a cloak either. He was a warm, gentle spirit and a true leader who always looked for ways to help others. Sadly, in life, due to the military's discriminatory Don't Ask, Don't Tell law and policy Alan like so many others had to live his life compartmentalized instead of being his whole self. Each of us has many different characteristics and traits that make up our whole identity. For some it is easy to be whole, but for LGBT servicemembers it isn't.
While I was on the way to the funeral, I left my house in Alexandria VA and got on the subway train from Huntington Station. There was a young couple across from me. The young Asian man, an Army Lieutenant. was dressed in his field uniform with gear. His significant other, not sure if she was his wife or girlfriend, was by his side, holding hands, smiling at each other, sharing a wonderful moment together. As I always do, I introduced myself as a fellow veteran and thanked the young man for his service to the country and thanked his girlfriend/wife for her service and sacrifice as well. I asked the Lieutenant if he was deploying and he said he was returning to deployment after rest and relaxation (R&R). I thanked him again for his service and wished him well. Then turned towards the train door so he didn't see the smile on my face turn down, and the tears well up in my eyes thinking of my friend Alan who didn't return. When the train pulled up to National Airport and the couple stood up, I reached out again and shook his hand and said 'Be safe and hurry home.' He smiled and thanked me, and as he left the train his girlfriend/wife turned to me with tears welling up in her eyes and whispered thank you as she also saw the tears in my eyes. That young Lieutenant like so many others deployed are in my prayers every night for safe return. Sadly, my friend Alan only got a one-way ticket over there. The differences are, the young Asian Lieutenant was able to be whole in his identity as a young Asian man, heterosexual, open about his relationship, and if God forbid he doesn't make it home safely his girlfriend/wife will be notified. For Alan, there was still compartmentalization. A part of his life, his sexual orientation, was still hidden, and for many of his gay friends we didn't find out about his death until a month later. If he had a partner, they would have never received a call or visit from a casualty officer. Even in death our friend Alan's life was compartmentalized.
The burial service for our friend Alan was an excellent tribute to his courage, bravery, sacrifice, and the people whose lives he touched. Over 200 people gathered from all walks of life, both active duty military and civilian, gay and straight, White, Black, Asian, Latino, and so many other diverse communities represented. They all stood silently for the full military burial honors. All stood at attention for the playing of Taps. And many of us filed up to the open grave and knelt down in prayer at Alan's casket, and then stood up and saluted our friend for the last time. Tears flowed down the cheeks of many that day. We were all there as one to honor our friend. The difference once again was that many were there fully open and able to be clearly identified for their whole self. While a dozen or more of gay active duty military personnel, friends of Alan's, from enlisted ranks up to an active duty senior officer who is also gay, stood by silently to honor their friend questioning whether or not their partners or loved ones would be notified if something happened to them during deployment. They continue to have to live a compartmentalized life. Each day having to leave part of themselves at home in a closet while the other self goes out to serve our country, and sometimes die for our country. What is most disheartening to me as a gay veteran is that the day before my friend Alan Rogers was killed in combat if the Army found out he was gay then suddenly he wouldn't be qualified to continue serving the country he loved. But the next day he was a hero for giving his life for his country. But he couldn't, even in death, be identified as a gay hero. For many of us in the DC gay military community he is our gay military hero and our friend, no matter how others may remember him. As we left Arlington Cemetery that day we all smiled sadly and began telling stories of our friend and hero Major Alan Rogers.
Later, the evening of March 14th, 2008 many of Alan's friends and extended family gathered in a Northwest Washington DC Bed & Breakfast to celebrate his life. This was the location we had gathered in a year before with Alan for his pre-deployment party. The evening was filled with many friends and family, gay and straight, telling stories of Alan. A reporter from the Washington Post was at the burial service at Arlington earlier in the day, and stayed at the B&B from the beginning at 7:30 until late in the evening around 10p.m. interviewing gay and straight friends and family. It was a wonderful sight to see all the diversity in the room all with one common goal and purpose, to honor the life of this great American hero and our friend and loved one, Major Alan Rogers. He touched the lives of so many people. There were friends there from all over the U.S., Europe, and Southeast Asia (South Korea) to honor Alan. Those of us who talked to the Washington Post reporter had also talked to Alan's closest friends and family to confirm if they were ok with including identifying Alan as a gay man in the story. We didn't want to tell just a 'gay story' about our friend, but his whole story. They were all in agreement that Alan would want his whole story told. As I left the life celebration event that evening I felt sad but happy that we were honoring Alan as we all felt he would have wanted.
The next day I went to the gravesite at Arlington to visit Alan's grave. I sat down on the fresh earth beside the temporary marker of Alan's. He is buried next to (then) 7 fresh graves of others killed in Operation Iraqi Freedom. As I sat there thinking about my lost friend a young woman came up to another grave nearby, a young Army Private also killed in Iraq. I noticed the crescent moon and star on his new white tombstone indicating he was Muslim. I spoke with her briefly and learned that he was 21 when killed by an IED. She also told me that he loved being in the Army and serving in Iraq. He loved his country. She comes to put fresh flowers on his grave twice weekly, driving down from Columbia Maryland. I learned that many of the spouses, parents, and friends develop friendships on these visits to honor the ones they loved and lost in the war. Here was yet another diversity identifier for this young soldier that gave his life. Yet, for my friend Alan, there's nothing to indicate he was a gay man that honorably served his country and gave the ultimate sacrifice. Even in death he can't be a whole person, and his life remains compartmentalized.
Since Alan's death and burial service at Arlington several news stories, editorials, and blogs have been published, some telling the whole story and some once again keeping his life compartmentalized. I'm sure there will be many more. Sadly, his family has changed their position on wanting his whole story to be told. We (his gay friends) never meant to upset the family, but the story had already gotten out when they changed their position. We reported Alan's whole story with the best of intentions to honor Alan. I leave each of you reading this article to follow up on your own and read the stories written about Alan and make your own conclusions. I will say that for all of us that knew Alan, gay or straight, friend or family, we all had and continue to have the same goal, honoring Alan's life and memory, as he would have wanted it. The challenge is that we don't have anything definitive from Alan on how best to do this. We each have our own knowledge and experience of our relationships with Alan to define our stories and actions, but still nothing concrete from Alan himself. For me, this is the most compelling thing about Alan's death and the stories. All of us, whether gay or straight, have a story to tell. We have things in our lives that are very important to us, that are our legacy. That is why it is so important to document your story now. Let your friends, family, loved ones, and the community around you know who you are now, and how you want to be remembered. For if you don't, then your story too may become compartmentalized and only half told or not told at all. Clearly communicate your story now for loved ones to pass on to future generations. No matter what your faith traditions, I believe that none of them have a 'Don't Ask Don't Tell Policy' in the Afterlife. I also hope this story encourages partners of other LGBT servicemembers killed in combat to come forward and tell their whole story as well. Alan certainly wasn't the first, and there are many other unsung heroes whose whole story needs to be told. And everyone deserves to be whole and have the whole story told in death to fully honor his or her memory. I will forever honor my friend, my gay hero, Major Alan G. Rogers, and ask that you honor him fully as well.
Tony Smith
USAF Veteran (1990-1995)
Proud Openly Gay Veteran
-------------------------------------------------
Editors note: A number of articles regarding the loss of Major Alan Rogers have appeared in both mainstream and gay media. Among them:

The Washington Post:
Army Officer Remembered as Hero; Friends, Fellow Soldiers Mourn Loss of 'Exceptional' Man
http://www.washingtonpost.com/wp-dyn/content/article/2008/03/21/AR2008032103036.html
Washington Blade:
Media, military kept soldier in closet after death
Friends say gay man killed in Iraq would want the truth to be known
http://www.washblade.com/2008/3-28/news/national/12300.cfm
Washington Post Ombudsman's article:
Public Death, Private Life
http://www.washingtonpost.com/wp-dyn/content/article/2008/03/28/AR2008032803062.html?sub=AR
©2008 GayMilitarySignal