Celebrating Freedom
The End of DADT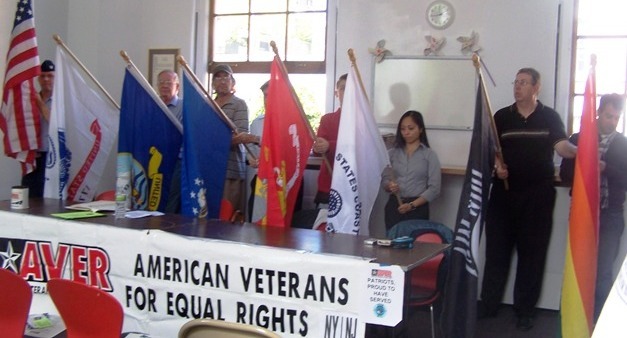 New York City, AVER NY & NJ, Sept. 18, 2011; Photo: Tony Breton
Celebrations were held around the country on September 18th, 19th, and 20th marking the long awaited end of DADT. Starting on Tuesday September 20th, 2011 Lesbian and Gay American patriots serving in our armed forces could do so openly in Pride.
Beginning on the weekend in New York City on Sunday Sept. 18th, AVER NY and NJ had a combined Color Guard, Pledge of Allegiance, singing of the National Anthem, and active duty and veteran speakers followed by a pasta fest.
On Tuesday, September 20th in the Heritage Room of the Club at McChord Field on Joint Base Lewis-McChord, Washington, RADM Alan Steinman, USPHS/USCG (Ret) co-sponsored a ceremony and commemoration at the same base where Major Margaret Witt, USAF (formerly attached to the 446th Aeromedical Squadron at McChord AFB) was discharged under DADT but who won her Federal lawsuit against the Air Force and U.S. government seeking reinstatement. RADM Steinman and his partner, Dallas Powers, who is a Reservist in the 446th Reserve Wing at McChord, are shown in the photo below as is the ceremonial cake (made at the Fort Lewis commissary) marking the occasion.
© 2011 Gay Military Signal